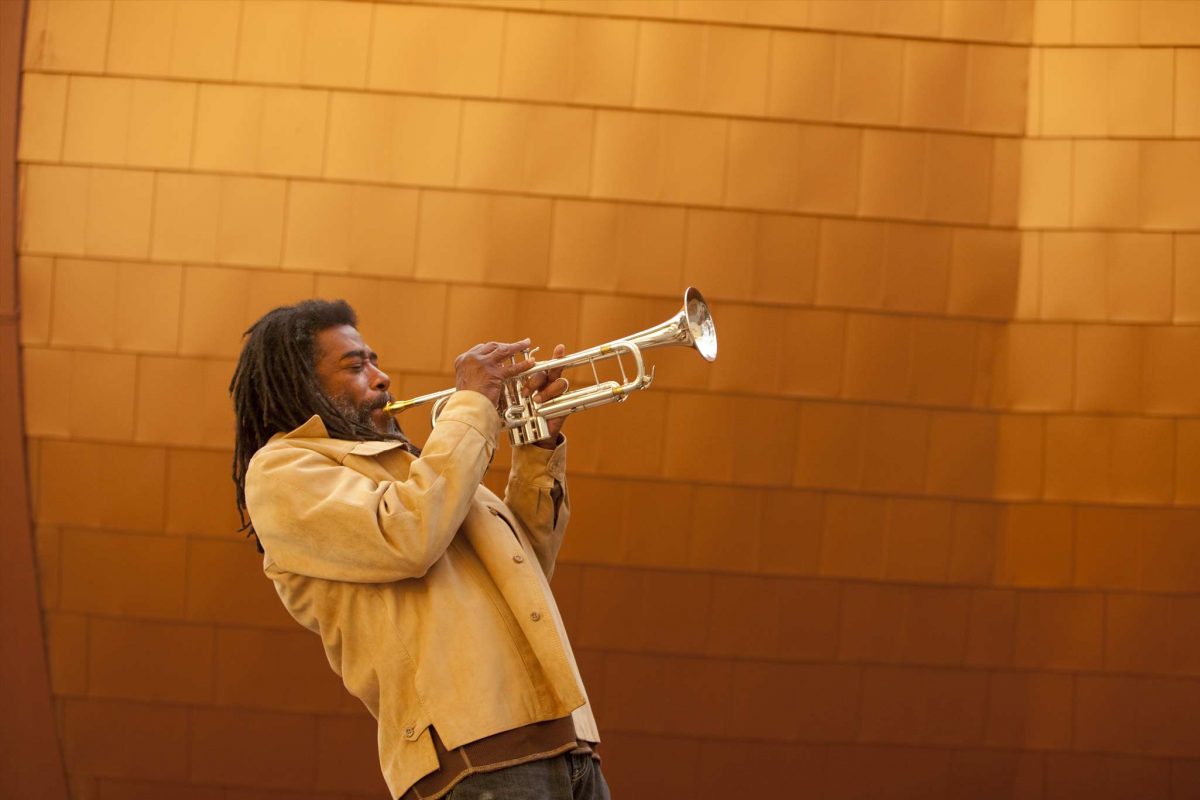 Wadada Leo Smith, trumpeter, multi-instrumentalist, creative composer/performer and author
Early Life and Education
Born on December 18, 1941 in Leland, Mississippi, Wadada Leo Smith began his musical journey steeped in the musical traditions of the South. He composed his first piece of music at the age of twelve, and at thirteen started performing with Delta Blues and other traditional bands. In high school he played in and served as assistant director of the concert and marching bands under the direction of Mr. Henderson Howard.
Smith received his formal musical education from his stepfather, composer/guitarist Alex "Little Bill" Wallace, one of the pioneers of electric guitar in Delta Blues. He was further educated through the U.S. Military band program at Fort Leonard Wood, Missouri (1963); Sherwood School of Music (1967-69); and Wesleyan University (1975-76). He has researched a variety of music cultures, including African, Japanese, Indonesian, European and American.
Creative Music and Ankhrasmation
Smith defines his music as "Creative Music," and his diverse discography reveals a recorded history of music centered in the idea of spiritual harmony and the unification of social and cultural issues of his world.
He has created Ankhrasmation, a symbolic image-based language for performers or musicians. He started his research and designs in search of Ankhrasmation in 1965, and his first realization of this language was in 1967, when it was illustrated in the recording of The Bell (Anthony Braxton: 'Three Compositions of New Jazz').  Ankhrasmation has played a significant role in Wadada's development as an artist, ensemble leader and educator.
Smith's Ankhrasmation language scores have been exhibited in major American museums including The Renaissance Society at The University of Chicago, which in October 2015 presented the first comprehensive exhibition of these language scores. In 2016, the Hammer Museum's 'Made in L.A.' exhibition featured the scores and presented Smith with the Mohn Award for Career Achievement honoring "brilliance and resilience." His scores have also been shown at the Kalamazoo Institute of Arts in Michigan, the Kadist Art Foundation in San Francisco, The Museum of Rhythm Łódź, Poland and the Clemente Gallery in NYC.
 Awards and Commissions
Smith was a finalist for the 2013 Pulitzer Prize in Music for Ten Freedom Summers, (Defining Moments in the History of the United States of America), a collection of compositions inspired by the civil rights movement and released as a 4-CD boxed set. Ten Freedom Summers has also been awarded a MAP Fund Award (2011), Chamber Music America New Works Grant (2010), National Endowment for the Arts Recording Grant (2010), Southwest Chamber Music commission with support from the James Irvine Foundation and Clarence E. Heller Charitable Foundation, and a John Simon Guggenheim Memorial Foundation Fellowship (2009-2010). Smith was named DownBeat Magazine's Composer of the Year in 2013.
In 2016 Smith received a Doris Duke Artist Award and earned an honorary doctorate from CalArts, where he was also celebrated as Faculty Emeritus. In addition, he received the Hammer Museum's 2016 Mohn Award for Career Achievement "honoring brilliance and resilience." In 2018 he received the Religion and The Arts Award from the American Academy of Religion. In 2019 he received the UCLA Medal, the highest honor bestowed by the University of California, Los Angeles. United States Artists named Smith a 2021 USA Fellow, and he has been selected as a 2022 Mellon Arts & Practitioner Fellow at the Yale Center for the Study of Race, Indigeneity and Transnational Migration (RITM). Earlier in 2022, he also was commissioned by the LA Philharmonic to write the orchestral piece Gondwana: Earth, a Blue Sanctuary, Oceans, Seas, Lakes, Rivers, Springs and Lagoons; Paradise Gardens and Skies, as well as String Quartet #13, performed by the JACK Quartet.
Smith's America's National Parks earned wide praise as one of the best albums of 2016 from The New York Times, the NPR Jazz Critics Poll, The Wire and many other media outlets and was voted 2016 Jazz Album of the Year in DownBeat Magazine's 65th Annual International Critics Poll, which also honored Smith as Jazz Artist and Trumpeter of the Year and featured him on the cover of the magazine twice: in November 2016 and August 2017.  He was named Artist of the Year in the 2016 Jazz Times' Critics Poll.
The Jazz Journalists Association has honored Smith as their 2013 Musician of the Year, 2015 Composer of the Year, 2016 Trumpeter of the Year, 2017 Musician of the Year plus Duo of the Year for his work with Vijay Iyer, and the 2022 Trumpeter of the Year.  In 2022, Smith earned the Vision Festival's Lifetime Achievement Award.
Among Smith's numerous other awards, commissions and residencies are an Other Minds residency that commissioned Taif, a string quartet (2008); Fellow of the Jurassic Foundation (2008); FONT (Festival of New Trumpet) Award of Recognition (2008); Islamic World Arts Initiative of Arts International (2004); Fellow of the Civitela Foundation (2003); Fellow at the Atlantic Center for the Arts (2001); "Third Culture Copenhagen" in Denmark presenting a paper on Ankhrasmation (1996); Meet the Composer/Lila Wallace-Reader's Digest Commissioning Program (1996); Asian Cultural Council Grantee to Japan (June-August 1993); Meet the Composer/Lila Wallace-Reader's Digest Commissioning Program (1990); New York Foundation on the Arts Fellowship in Music (1990); National Endowment for the Arts Music Grants (1972, 1974, 1981).
 Collaborators
Smith has performed and/or recorded with Anthony Braxton, Leroy Jenkins, Roscoe Mitchell, Henry Threadgill, Lester Bowie, Joseph Jarman, Cecil Taylor, Steve McCall, Anthony Davis, Carla Bley, Don Cherry, Jeanne Lee, Tadao Sawai, Muhal Richard Abrams, Ed Blackwell, Kazuko Shiraishi, Han Bennink, Marion Brown, Charlie Haden, Malachi Favors Magoustous, Jack DeJohnette, Vijay Iyer, Ikue Mori, Min Xiao Fen, Bill Laswell, John Zorn, Ronald Shannon Jackson, Frank Lowe, among many others.
Smith's compositions have been performed by numerous contemporary music ensembles: RedKoral Quartet, Orkiestra Symfoniczna NFM (Wroclaw), AACM-Orchestra, Kronos Quartet, Da Capo Chamber Players, New Century Players, LA Phil New Music Group, Chicago Symphony Orchestra Association, San Francisco Contemporary Music Players, Contemporary Chamber Players (University of Chicago), S.E.M. Ensemble, Southwest Chamber Music, Del Sol String Quartet, New York New Music Ensemble, ne(x)tworks, and California E.A.R. Unit.
For over two decades, Smith has been creating music for multiple ensembles, including works that take several days to perform: Ten Freedom Summers (2011, RedCat, Los Angeles); "Tabligh" for double-ensemble (Golden Quartet and Classical Persian ensemble at Merkin Concert Hall, NYC 2006); Golden Quartet and Suleyman Erguner's Classical Turkish ensemble (Akbank Music Festival in Istanbul 2007). His largest work "Odwira" for 12 multi-ensembles (52 instrumentalists) was performed at California Institute of the Arts in March 1995.
 Educator
Smith served on the faculty of The University of New Haven (1975-'76), The Creative Music Studio in Woodstock, NY (1975-'78), and Bard College (1987-'93). Beginning in 1994 he was on the faculty at The Herb Alpert School of Music at California Institute of the Arts, where he served as director of the African-American Improvisational Music program. He retired from CalArts in 2013.  He continues to present workshops, residencies and master classes at institutions such as Harvard University, New England Conservatory, The New School, Ithaca College, and The Georgetown Day School among others.
Writings
Smith's music philosophy Notes (8 Pieces) Source a New World Music: Creative Music was originally published by Kiom Press (1973) and translated and published in Japan by Zen-On Music Company Ltd. (1976). In 1981 Notes was translated into Italian and published by Nistri-Litschi Editori. An expanded edition of Notes (8 Pieces) was published in 2015. In 1996 Smith presented a paper on Ankhrasmation at the "Third Culture Copenhagen" conference, along with other artists, scientists and philosophers. His interview was recorded for Denmark TV and broadcast in September 1996.
Recordings
Smith's work has been recorded extensively on more than 100 albums as a leader/co-leader. His most recent releases include Wadada Leo Smith String Quartets Nos. 1-12 and The Emerald Duets.
Affiliations
Smith is a member of the historic and legendary Association for the Advancement of Creative Musicians. He is also a member of ASCAP.